Hyundai is one of the most popular automakers in the United States, and it's earned those sales by selling excellent vehicles at reasonable prices. However, although the South Korean brand is typically known for safety and reliability, two Hyundai SUVs scored poorly in Consumer Reports' new rear-seat safety testing. Here's how the 2022 Hyundai Santa Fe and 2022 Hyundai Tucson performed.
Consumer Reports recently introduced rear-seat safety testing
2022 Hyundai Tucson front seat | Hyundai Motor Co
Consumer Reports says it introduced the rear-seat safety score for cars in 2021 and will continue expanding the ratings. The idea behind the rear-seat safety score is to measure rider safety for children and adults. It uses results from child-safety tests and factors in any features affecting rear-seat safety.
CR evaluates cars in six rear-seat safety categories. Three are specific to children, while the others relate to adults:
Car-seat fit — how easy it is to install a child car seat and how many car seats a user can install.
Booster-seat use — the ease of fitting a booster seat, including whether kids can buckle themselves easily.
Rear-occupant alert — whether a car has features that could prevent hot-car deaths.
Advanced rear restraints — including seat-belt pretensioners and airbags.
Rear head restraints — whether rear center seats don't have a head restraint or have one that's too low.
Rear-seat minders — audible warnings that require passengers to buckle up before the alert stops.
"The message from our new rear-seat safety testing is not that vehicles with lower scores are unsafe, but that they do not offer the same comparative margin of protection as those vehicles that earn higher marks," says @emathmsphd, automotive safety engineer at CR.
— Consumer Reports (@ConsumerReports) September 28, 2021
Consumer Reports stresses that just because a model scores poorly on these tests doesn't mean it's dangerous. According to Emily A. Thomas, an automotive safety engineer at CR, "The message from our new rear-seat safety testing is not that vehicles with lower scores are unsafe, but that they do not offer the same comparative margin of protection as those vehicles that earn higher marks."
These 2 Hyundai SUVs did not perform well on CR's rear-seat safety tests
*{padding:0;margin:0;overflow:hidden}html,body{height:100%}img,span{position:absolute;width:100%;top:0;bottom:0;margin:auto}span{ height:1.5em;text-align:center;font:48px/1.5 sans-serif;color:white;text-shadow:0 0 0.5em black}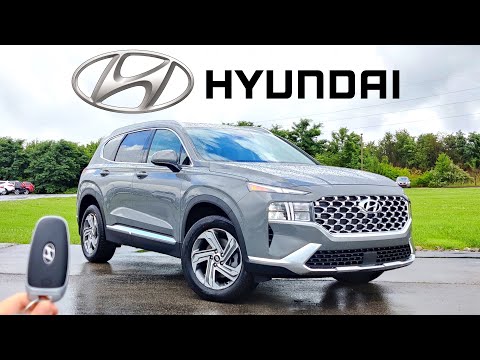 These 5 SUVs earned high scores in rear-seat safety testing
*{padding:0;margin:0;overflow:hidden}html,body{height:100%}img,span{position:absolute;width:100%;top:0;bottom:0;margin:auto}span{ height:1.5em;text-align:center;font:48px/1.5 sans-serif;color:white;text-shadow:0 0 0.5em black}