Doug Preston's first children's book is a Christmas story about a battle between good and evil. The main characters are the last two dragons in New Mexico.
In Santa's Dragon (Sky Railway Publishing, 54 pages, $ 21.99), Pablo el Dragón Morado de Fuego y Humo – also known as Pablito – is a friendly, purple creature who is very lonely because all of his friends and family were long ago Time have disappeared. "He's especially lonely around Christmas when families get together," said Preston, a Santa Fe resident who writes a bestselling thriller series with Lincoln Child.
On Christmas Eve, Pablito soars across the wide skies of Santa Fe when he spies on the only other dragon he knows – a bright red villain named FT Soggybooger Scraggletooth the Third, who emanates from Soggerty. Pablito usually tries to avoid Soggerty. But he's flying very fast and obviously he's up to no good, so Pablito follows him and hides behind clouds so as not to be seen.
"He thinks Soggerty is involved in the most shameful thing," says Preston. "He ends up on the roofs of houses after Santa Claus visits and he takes his ugly tail and rolls it down the chimney and steals the presents that Santa Claus left."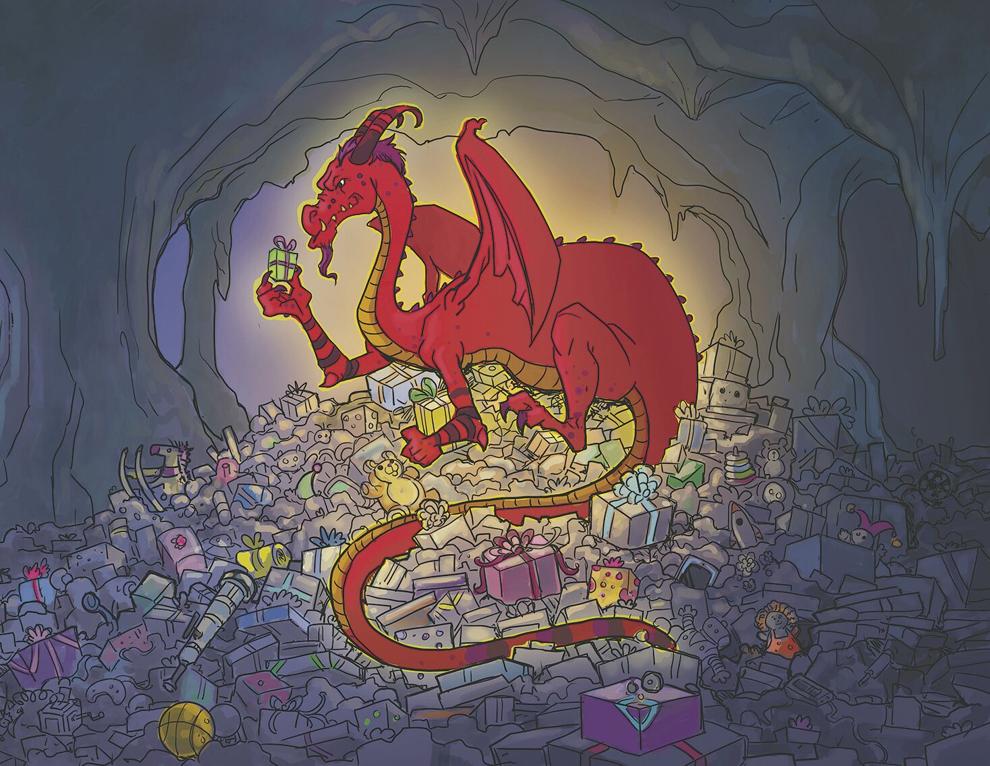 Soggerty and his stolen gifts, courtesy of Sky Railway Publishing Co.
Pablito follows Soggerty to his home in Diablo Canyon. What he sees there is the mental image Preston started with. "I saw Soggerty in his den, curled up over a huge pile of Christmas presents. All sorts of fun things like pogo sticks and hula hoops and things from the 50s and 60s. He's a big old wart dragon. He can't do anything with these gifts, but he wants them. He says, 'Mine! All mine!'"
The illustrator who brought Preston's vision to life is Raya Golden, who usually illustrates comics and graphic novels. In Santa's Dragon, she uses shades of purple, red, and indigo to conjure up the city differently, preferring jewel tones to the typical pastel tones often associated with the southwest. The dragons soar over a version of Santa Fe that is both recognizable and unearthly. There are adobe skylines as well as glowing fuchsia mesas.
"I linger a lot in times of twilight and sunset. These are the most beautiful places in the sky, "she says. "Drawing the kites was a lot of fun. I found a purple dragon with turquoise toes very Santa Fe. All of my adult comics are based on darkness, but my style is almost child-friendly – smiles and happy bellies. It's fun to make something sweet. "
Author Doug Preston and illustrator Raya Golden |
Golden's color choices add to the drama of the story, which ends happily but has enough conflict to keep kids enthralled. (Preston and Golden say the target age reader is around 7 years old, or take a couple of years.) Though nothing really scary happens in Santa's Dragon, Soggerty is portrayed as greedy and unhappy, numbly betraying children to themselves to serve.
"He doesn't want to share with the kids. Pablito wants to share, and that's all it takes to beat Soggerty, "says Golden.
Pablito saves Christmas for Santa Fe by helping Santa Claus deliver all stolen gifts to their rightful owners. There are too many presents for Santa to take his sleigh, so Santa turns Pablito into a train to take the presents from Diablo Canyon to the Santa Fe train station. Adults reading the story may wonder about the long-gone holidays when they haven't received the gifts they wanted and hope that Pablito will deliver them this year.

Pablito faces Soggerty, courtesy of Sky Railway Publishing Co
The train version of Pablito that appears in the book is based on a real train in Santa Fe: Pablo the Dragon Train from Sky Railway. Sky Railway is the new name for Santa Fe Southern, the short-haul railway that runs the 18 miles between downtown Santa Fe and Lamy. It was purchased in 2020 by fantasy writer George RR Martin, Violet Crown cinema owner Bill Banowsky, and National Dance Institute of New Mexico co-founder Catherine Oppenheimer. Pablo the Dragon Train was designed, and painted by Joerael Numina, a mural painter who painted both engines and all eight carriages, which are 50 to 80 feet long.
"It's the largest public work of art in Santa Fe," says Numina. "I'm thrilled that this isn't parked anywhere. It is moving. People can ride in my art. "
In addition, Pablo the Dragon Train actually roars and breathes smoke. "I think kids will love it. I wish I was seven again, "says Preston.
As for Pablito, as soon as he is no longer a train he moves to the North Pole and supplies Santa's workshop with his fiery breath. Other dragons also live there and Pablito is no longer lonely.
"He played and laughed and never had to wish for a boyfriend," writes Preston of a scene of brightly colored dragons frolicking together on a snow-covered hill.