GALLUP, N.M. — About a year ago, Valory Wangler, a family medicine doctor, invited a handful of former co-workers to her backyard.
During the early months of the covid-19 outbreak, Wangler and her colleagues had worked at a hospital in this former railroad hub of about 21,000 residents just a few miles from the Navajo Nation. The pandemic had been hard on Rehoboth McKinley Christian Hospital. Emergency federal funding was drying up and nearly a third of the staff — including Wangler, the chief medical officer — left after its board of trustees hired an out-of-state, for-profit management services firm to take over operations in August 2020.
The group of former hospital employees in Wangler's backyard that afternoon in June 2022, including two OB-GYNs and a chaplain, knew the situation was dire and wondered what they could do.
Wangler said they realized "the most important thing we could do for the community is have good access to primary care."
The health care cliff Wangler and her former colleagues confronted is one that has challenged dozens of rural communities over the past two decades.
By late 2022, the hospital had closed its labor and delivery unit and lost most of its primary care doctors. Gallup's McKinley County was recording the largest primary care provider deficit in rural New Mexico — and local doctors knew that could lead to an increase in untreated conditions and patients seeking emergency rather than preventive care.
As of July 11, 195 rural hospitals have shuttered inpatient units or closed their doors altogether in the United States since 2005. Hundreds of others, like the one in Gallup, have cut services. Meanwhile, from 2006 to 2018, the combined number of Federally Qualified Health Centers and Rural Health Centers — outpatient clinics that receive federal funding to operate in medically underserved areas — increased by roughly 50%, according to a 2021 study from the University of North Carolina-Chapel Hill. By 2019, 20% of rural residents accessed care at such community health centers.
In response to the challenges facing their hospital, Wangler and the colleagues who'd gathered in her yard decided to open their own physician-led, nonprofit clinic, which is on its way to becoming an FQHC Look-Alike, an organization that meets the eligibility requirements of an FQHC but does not receive grant funding. That status will qualify the clinic for multiple types of federal aid including drug pricing discounts. Since it opened its doors last August, Gallup Community Health has treated about 3,000 patients in its stucco office space just a block from the historic U.S. Route 66. Many of GCH's doctors came to Gallup from elsewhere and could have left town for more lucrative jobs. Instead, they decided to stay and attempt to fill primary care gaps.
"I've not seen [an FQHC] like this," said Tim Putnam, a faculty member of the Medical University of South Carolina, a former hospital CEO, and a past president of the National Rural Health Association. Although it's rare, if not a first, for physicians to lead their own FQHC, he said, it's not uncommon to see FQHCs started by community groups, and in Gallup "the physicians are so dedicated to the community" that they're like a community group themselves.
Unlike rural hospitals, which are increasingly being purchased by private equity firms and prioritizing lucrative specialties to increase profits, these health centers must offer primary care regardless of patients' ability to pay and be overseen by a board made up primarily of patients. But while clinics provide important primary care services, researchers note that they struggle to fill the gaps in specialty and emergency care left by hospital closures.
Marcie Richmond, one of the clinic's family medicine doctors, came to Gallup for the same reason that drew many of her colleagues: "to work with populations that might not be receiving much care." She envisions a day when more of the Gallup area's providers come from the local Navajo and Zuni communities, but until then she hopes to continue offering much-needed "care for people who are victims of chronic injustice."
The clinic's interior reflects that care: Indigenous children's books like "Where Did You Get Your Moccasins?" and "We Sang You Home" fill the lobby, prints by Zuni artist Mallery Quetawki are going up in exam rooms, and watercolors of nearby Red Rock Park and photographs of Canyon de Chelly hang in the hallways.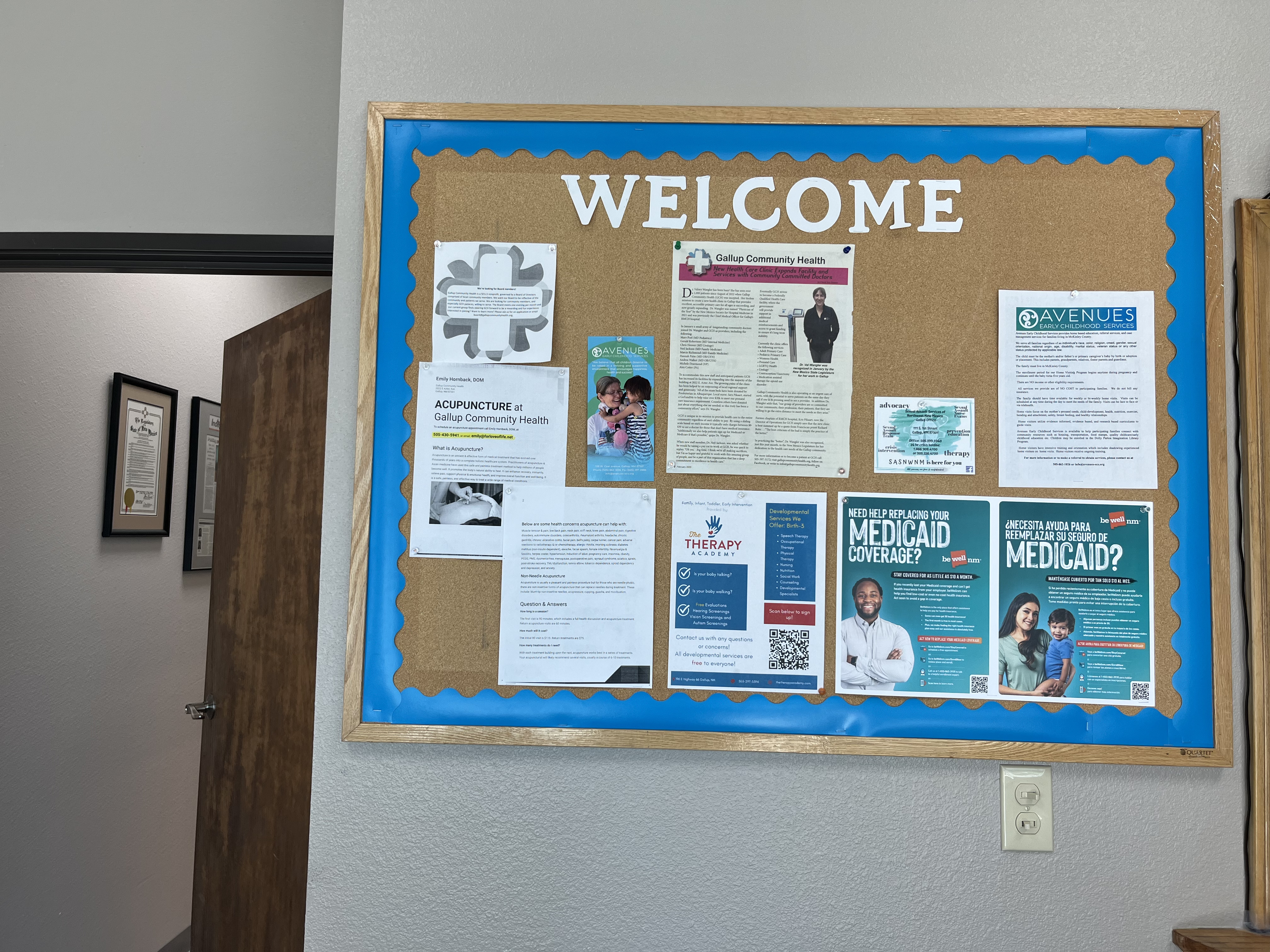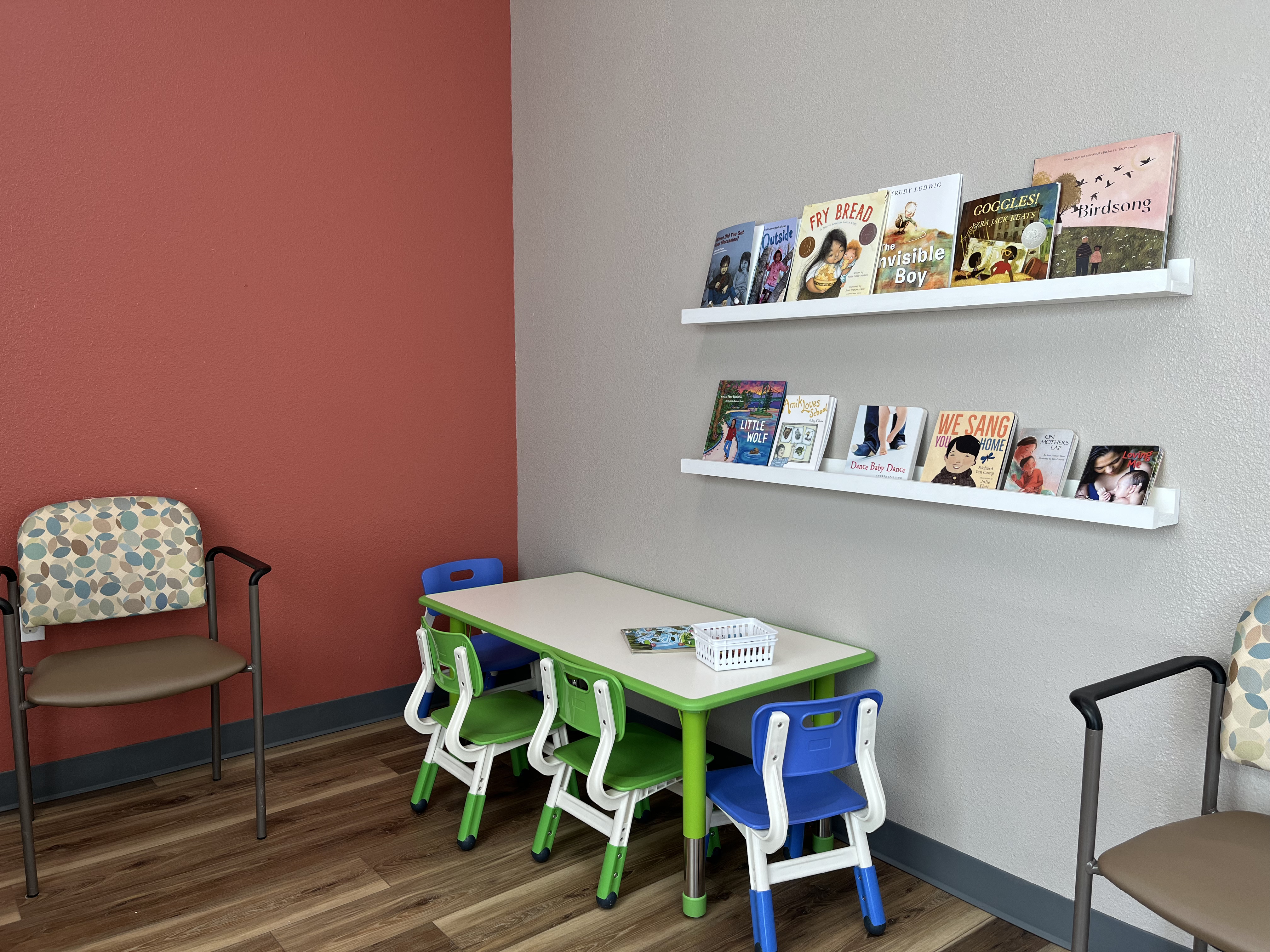 On a Thursday morning in April, Renie Lente and her sister, Elsie, waited for their appointment.
Elsie has cerebral palsy and lives in a nursing home; Lente is her caregiver. Lente had called the night before after she noticed a fungal infection on Elsie's foot, and the clinic was able to fit her in the next morning with the provider who treats her whole family. The community clinic is a "big change" from Rehoboth McKinley, where, Lente said, there was a backlog to be seen by primary care providers that left patients turning to the emergency room. After family medicine physician Neil Jackson treated Elsie, making space in the small exam room for both sisters and nursing home staffers, Lente noted that she appreciated how Jackson "treats you like family."
"One of the things that the staff committed to from the beginning was doing what was right for the patient and figuring out finances later," said Wangler, the clinic's executive director.
The clinic opened its doors in large part thanks to contributions from the community: A statewide hospital system donated equipment, Gallup residents raised $30,000, and more than half the doctors volunteered their time or asked not to be paid until the clinic was operating in the black.
The team intended to offer some reproductive health care, but not prenatal care. Their clinic wasn't a hospital, so patients would have to give birth elsewhere. But by the time the clinic opened, Rehoboth McKinley had closed its labor and delivery unit after every OB-GYN left the hospital, forcing pregnant patients to transfer their care to the local Indian Health Service facility — a sizable hospital where many Native Americans can seek care but which not all of them prefer — or to a hospital more than an hour's drive away.
The doctors quickly started looking into what it would take to offer prenatal care. They wanted at least to save patients from having to choose between spending hours and gas money traveling for appointments and forgoing prenatal care entirely. By November, the community had raised $24,000 to pay for prenatal malpractice insurance. And during that time the clinic's OB-GYNs and OB-trained family medicine doctors developed a plan for providing prenatal care while maintaining relationships with the more distant hospitals where their patients could deliver.
Clinic leaders intend to keep the doors open by applying for it to become a Federally Qualified Health Center Look-Alike. That would qualify it for higher Medicare and Medicaid payments.
Clinic staffers hope providing quality outpatient care can minimize hospitalizations and the need to travel for specialty care. One of the tools helping GCH doctors provide that care is the University of New Mexico Health System's PALS, a hotline service that connects physicians anywhere in the state with specialists who can answer questions about care outside their area of practice.
"There's a physician shortage everywhere and a real understanding that it is challenging for people to get in from the rural setting," said Wangler, who added that specialists have been amenable to partnering and offering guidance.
Doctors like Jackson say the tight-knit community in Gallup made them want to stay and try to fill the primary care void. "All of the folks that I'm working with here are truly rooted in the community and going to be here for better or worse."
This article was supported by the Journalism and Women Symposium Health Journalism Fellowship, with the support of The Commonwealth Fund.