Like most kitchens at dinner time, it's a sea of ​​contained chaos.
But in this apparent free-for-all setting, Chef Fernando Olea is the rock that parts the sea. At Sazon, he's the boss.
You've probably heard of the restaurant, even if Olea's name doesn't ring a bell. That's because Sazón has garnered rave reviews in international listings such as Fodor's Travel and Tripadvisor even before Olea, 71, was honored with the James Beard Foundation Award for Best Chef: Southwest on June 5 during the Chicago ceremony.
On this midsummer day, nothing about the 30-year veteran of the Santa Fe restaurant scene suggests that he feels pressure. Indeed, perhaps the most surprising element of Olea's personality isn't his humility — he peppers his speech with words like "lucky" and "fortunate" — but his meditative calm. Still, the executive boss is a lot more than busy.
"You know, I coordinate the whole operation. I develop my recipes. I watch the group in my kitchen, the front of the house, the bar, everything. I'm ready to jump in for whatever is needed. It's no different from the captain of a boat. I try to train people to do different positions so they are able to cover the needs of the business with or without me."
Last year, Olea spent the holidays with his family. He doesn't remember the last time that happened.
During a climb up narrow stairs, the sounds of silverware on plates and dining room chatter fade away. Olea takes a seat at his desk. There are few tokens of his life in restaurants. No personal photos on his desk. No signs, in fact, that anyone has visited the room in weeks.
"The secret in a restaurant is not how good or how bad you are," Olea says. "The secret in a restaurant is how consistent you are. Many times, casual places are very successful—because they are consistent. And there is nothing worse than going to a place, and today is very good, but tomorrow is not good. You don't build clientele like that."
Kitchen comfort
On a temperate July night, a breeze floats into Sazón's kitchen from an open door facing Shelby Street. A single pedestrian pass, oblivious to the bustle a mere 25 feet away.
Sazon boss-owner Fernando Olea stirs a mole.

Gabriela Campos/The New Mexican

Canisters of sauces are the first thing one sees upon entering the kitchen, which isn't much larger than a one-car garage. That's no surprise, given mole — a sauce used in some Mexican cuisines that's made with ground red chile — is one of Olea's specialties. And don't suggest to Olea that mole is made with chocolate because he is on a crusade to correct that little misconception about the sauce. It isn't chocolate-based, he says, leaning in to make his point. It's essentially salsa's non-condiment cousin. Salsa is added to a completed meal, while mole is part of one.
In one way at least, Sazón's kitchen is larger than life: the salsa that's served in small containers on tables is still in large vats. A 50-pound bag of jasmine rice waits to be split open. Two 7-foot-tall refrigerators tower above the proceedings. And there's a sound like a distant waterfall that is, in fact, employees washing their hands.
Above their heads, the ceiling is painted gold, suggesting sunlight.
Olea is dressed simply, in jeans, a chef's shirt featuring his name, and a white apron at his waist. He stands close to the dining room door. Above the kitchen's din, he offers a simple explanation for the scene in his taciturn way.
"Everybody works all the time."
road to success
Olea, who was born and raised in Mexico City, previously owned Bert's Burger Bowl and Epazote on the Hillside, both of which since have closed.
In a 2014 review of Bert's, the Santa Fe New Mexican wrote, "With a little imagination, the experience becomes something akin to time travel, taking you back to your first burger, probably enjoyed well before you were old enough to drive."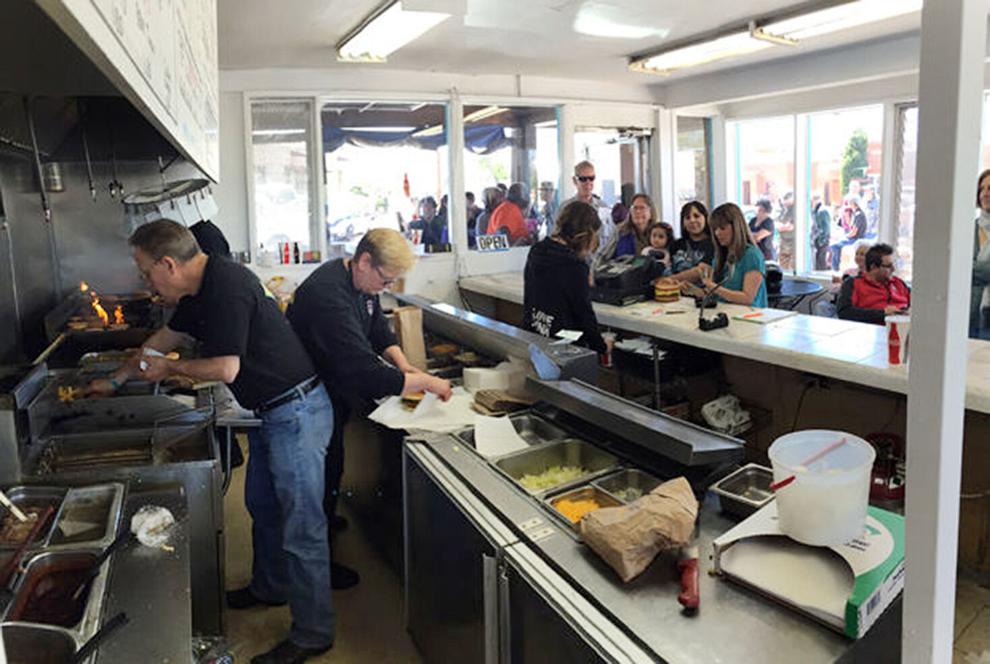 Fernando Olea and his former wife, Debra, working on orders at Bert's Burger Bowl

The New Mexican file photo

Olea kept the Bert's name after buying the burger joint, even though he knew well-meaning customers would call him "Bert." Sazón is his creation, but he's not interested in seeing "Olea" in big letters above the entrance.
Olea with his now ex-wife, Debra, in Mazatlan. Then they moved to her native Minneapolis in 1983 and in 1991, to Santa Fe. Although Mexico City is among the world's largest metro areas, it didn't have much diversity in cuisines at the time, Olea says. So he wasn't familiar with French, Asian, or Italian flavors growing up but has since rectified that during trips abroad.
An example of the chef's flavor convergence: The first item on Sazón's menu is the Camaron-Tini, described as colossal white shrimp from Gulf of Mexico served in a light, crispy batter with a sweet Thai chili aioli.
To Olea, Sazon is a magical word with multiple meanings. It translates to "seasonings" in Spanish.
"But the real meaning of the word sazón in Spanish is that personal touch that … means you are good for something, or you can do something right."
Flavors aren't the only personal touch at Sazón. The restaurant is colorfully decorated; those waiting for a table sit on a tile-covered bench, with art visible in almost every direction — including up, where lamps of various shapes and designs hang overhead.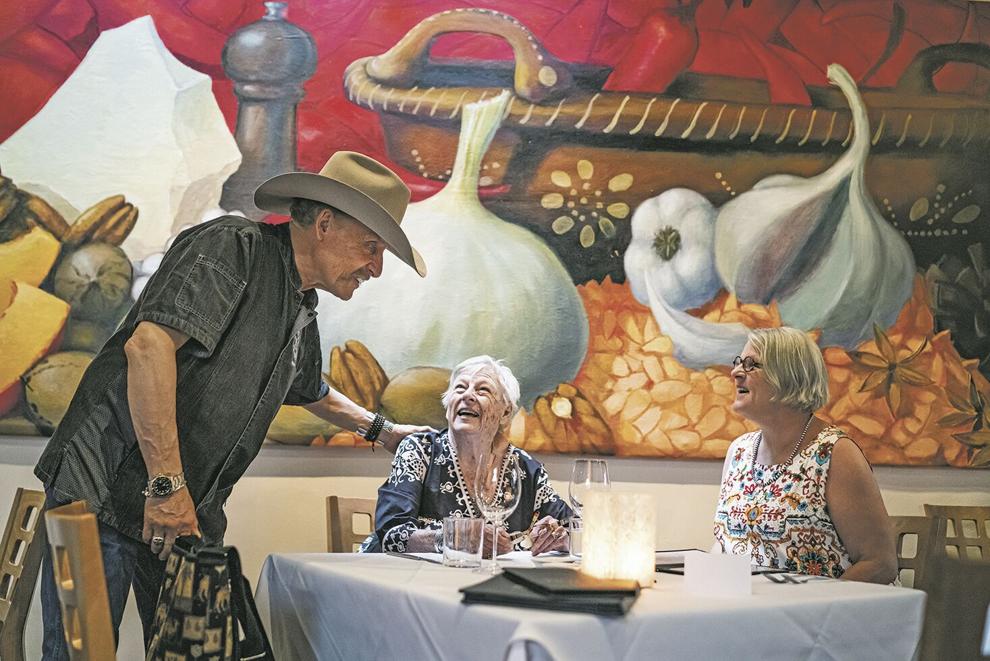 James Beard Foundation Award winner Fernando Olea visits with guests in the Sazon dining room.

Gabriela Campos/The New Mexican

service and inspiration
Sazon's reputation has made it a draw for tourists. Olea estimates they make up 70 percent of his clientele. He's unequivocal about what he considers his audience.
"What we serve at Sazon is not [just] made for American palaces. It is made for any palace in the world. I incorporate flavors of any culture in the world into my cuisine. In that way, my cuisine is not what you would call 100 percent 'Mexican' or 'authentic' or, you know, those words that get used so much."
Inspiration for possible flavor combinations can strike at any time, says Olea.
"Sometimes I go to sleep with an idea. Then I cannot wait to be in the restaurant to start putting some ingredients together."
Olea generally shows up at Sazon in the early afternoon. Like many people, he eats dinner as his day nears an end. Unlike most, dinner time is between 11 pm and 2 am
Fellow Sazón co-owner Lawrence Becerra says he met Olea 15 years ago, when the chef owned Epazote on the Hillside — where he also experimented with mole in dishes. Olea was an appealing business partner for multiple reasons, says Becerra, who also co-owns Sassella in Santa Fe.
"Having lived in Mexico City for a while, I know good Mexican food. Fernando's food was the real deal," he says in a text from London. "I also loved the way he interacted with people. He visited every table, making sure they were having a great experience."
Sazón's menu doesn't rotate, which contributes to the food's consistency, Olea says.
"You know, there's nothing more disappointing that going to a restaurant, and when you come back in a different season, you don't find something that you really enjoy."
That said, ingredients are unpredictable, Olea says. For example, chiles are a key ingredient at Sazón and can be hot or mild, depending on the season. Luckily, Olea has a finely tuned flavor detector at his disposal: his tongue. That comes in handy, especially for dishes that specifically mention spice as an ingredient, such as the Xochimilco corn truffle over mini tortillas and Popocatepetl angus beef tenderloin.
So unpredictable: local food supplies. Because of supply shortages, Olea says, he sometimes has to shop elsewhere.
"The droughts we have in New Mexico affect any [ingredient] that is high risk. But at the same time, we are so lucky in the United States that even though we have seasons for some things, most of the things are available all year long. If we can't find it here locally, we find it from Florida, we find it from California, or we have other sources."
pull rate
"The secret in a restaurant is not how good or how bad you are. The secret in a restaurant is how consistent you are. … There is nothing worse than going to a place, and today is very good, but tomorrow is not good. You don't build clientele like that." — Fernando Olea
COVID-19 uncertainty might not be top-of-mind for diners anymore, but it still vexes restaurant owners and operators. "Before COVID, we knew what we were going to get and when we were going to get it. Nowadays, we don't know. You know, certain firms are short on staff, so they are not able to hire — so I am not able to sell their products."
Despite such challenges, Olea has no plans to step away or slow down. Asked what has he allowed to scale peaks in the culinary world, Olea says he listens carefully and has no shortage of inspiration. He's dismissive of any mention of "hard work."
"You know, I don't work," he says. "I come and I do what I love to do. 'Work' is not a word that I apply to myself."
He has simple advice for anyone pursuing a similar career path: Inflexibility hurts both a restaurant and one's health. Part of staying flexible is learning from failure, Olea says, not obsessing over it.
"Sometimes we don't reach the target. The important thing is to be there to try to rectify anything that goes wrong. It's beautiful to hear compliments of how much people love everything, but what really enriches us is knowing what we are doing wrong, because we can correct our faults."