Albuquerque SWAT officers take Solomon Peña into custody Monday in Southwest Albuquerque. Photo: Roberto E. Rosales/
Albuquerque police said Monday they have arrested Solomon Peña, an unsuccessful Republican candidate in the last state House elections, in connection with recent shootings at the offices and homes of elected Democratic officials.
Driving the news: Peña, who ran as a candidate for House District 14 seat in the South Valley, was arrested at a residential building near the ABQ BioPark Albuquerque after a standoff with a SWAT team following police concerns that the suspect could be armed, a City of Albuquerque confirmed to Axios.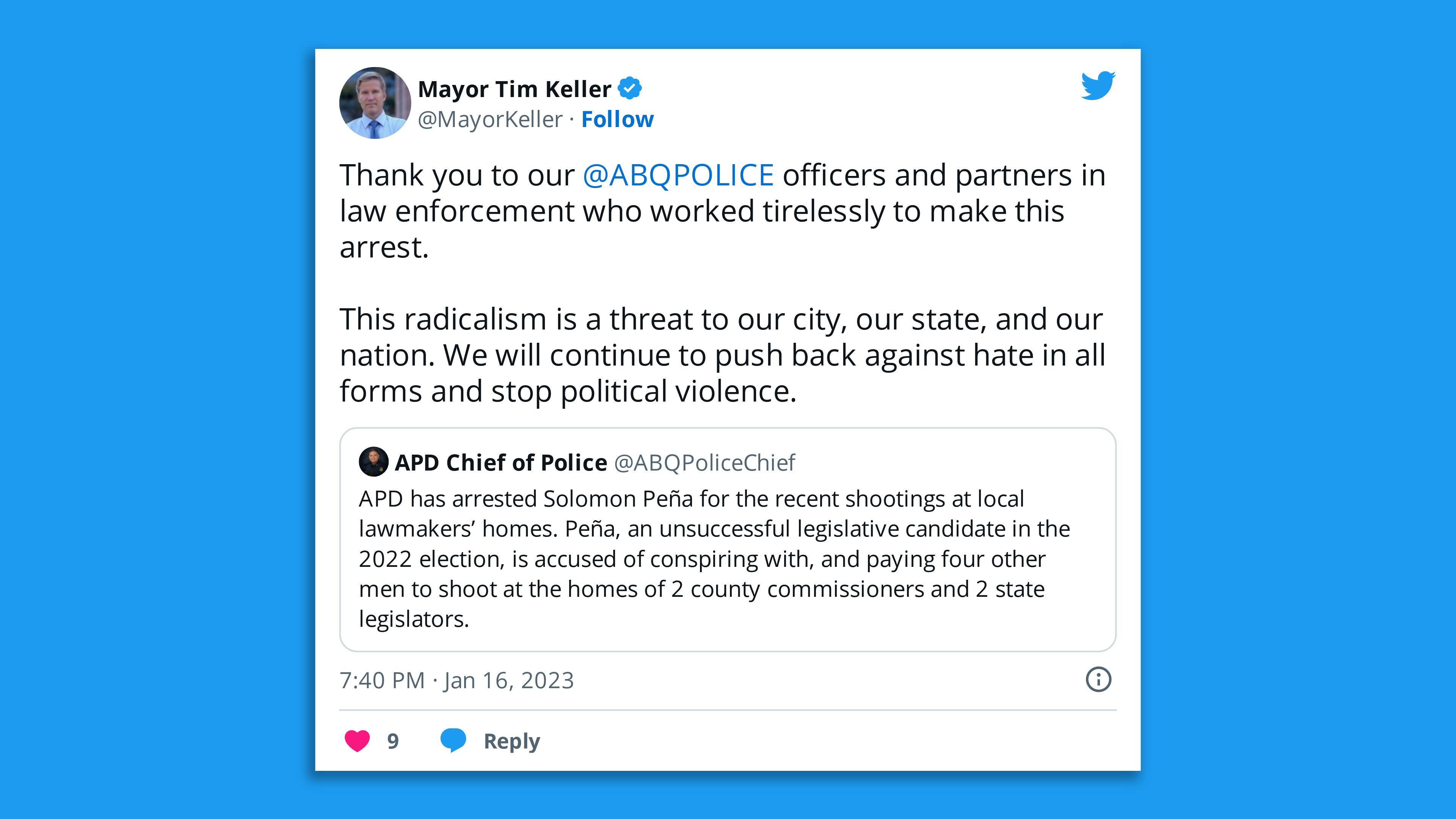 Photo: Albuquerque Mayor Tim Keller and police chief Harold Medina/Twitter
The building was the same address he gave to the New Mexico Secretary of State for his election campaign, per the .
Before the arrest, Journal reporters on the scene heard police say: "Solomon Pena please come out with your hands up, we have the place surrounded."
Of note: Peña's arrest follows that of another suspect on Jan. 9 in connection with the six shootings that police believe targeted the Democrats.
What we're watching: Peña is accused of conspiring with and paying four other men to shoot at the homes of two county commissioners and two state legislators, per a tweet from Albuquerque Police Department Chief Harold Medina.
Medina at a news conference Monday said "it is believed that [Peña] is the mastermind behind this."
Context: Albuquerque police had been investigating the shootings that began on Dec. 4, when Bernalillo County Commissioner Adriann Barboa's home was targeted.
Police said multiple shots were fired at the home of former commissioner Debbie O'Malley a week later and then at the home of state Sen. Linda Lopez on Jan. 3 and also at the office of state Sen. Moe Maestas on Jan. 5.
It later emerged that the campaign headquarters of Raúl Torrez, New Mexico's newly elected attorney general, and the house of incoming NM House Speaker House Javier Martinez, had also been targeted last month.
Go deeper: First-of-its-kind database tracks threats against public officials
Editor's note: This is a breaking news story. Please check back for updates.