Last fall, Form & Concept joined the ranks of art-making spaces, rather than existing just as an exhibiting gallery, with the creation of an ad hoc studio. Visible from the windows facing South Guadalupe Street, artist Anastazia Louise Aranaga is busy sewing and measuring amid piles of donated fabrics. Whether it's just for inspiration, for documentation, or simply to remember its recent history, articles published in various local newspapers and magazines line the walls, detailing the incident that led to her being here in Santa Fe, working, as she did once before, on The Solacii.
"I relocated my life to be here for the rebuild," Aranaga says of the 21-foot-tall sculpture, which was the target of an act of Arson in August. "I was in San Diego at the time, but mostly I've been in the Bay Area."
Since arriving in Santa Fe, Aranaga has barely had time to experience much of the city. Most of her time and attention is devoted to a new iteration of The Solacii, a sculpture intended to represent refuge and solace (hence its name) to anyone who needs it. And because of the backgrounds of its creators, it has become a symbol of the embrace offered to members of the BIPOC and LGBTQ+ communities.
Anastazia Louise Aranaga with The Solacii at Form & Concept, 2022; photoAustin Armstrong
Aranaga and artist Tigre Mashaal-Lively created the work in tandem in 2017, first exhibiting it at Burning Man, the annual festival of art, community engagement, and self-expression in Nevada's Black Rock Desert.
"The whole idea behind The Solacii is that it's a place of meditation, a place where you can go inside and take a breath," Aranaga says.
The artists, who spent nine months building the sculpture, included a soundtrack that incorporated the beat of a meditative heart, which those who entered its robes could hear inside. Visitors' own heartbeats would acclimate to the beat of the soundtrack after several minutes. The cloak, which draped the sculpture's metal frame, was made of donated items such as objects of personal value, from loved ones, or that had stories behind them. It was a cloak "made of human memories," Aranaga says. The figure's hands lift the cloak, inviting those in need of solace to enter.
The Solacii may be envisioned here as a single sculpture, but it represents an image, hence its multiple faces, like the two-faced figure of Janus, the mythic figure who looks forward and back simultaneously. The Solacii has three heads, representing past, present, and future. It's one iteration of what the artists envision as a fictional race of empathic beings whose presence in these times, like bodhisattvas, is in response to the world's suffering.
"The idea behind The Solacii is that they're all connected by one root system under the Earth, kind of like mycelium," Aranaga says. "They pop up into the world in places where love and compassion are needed."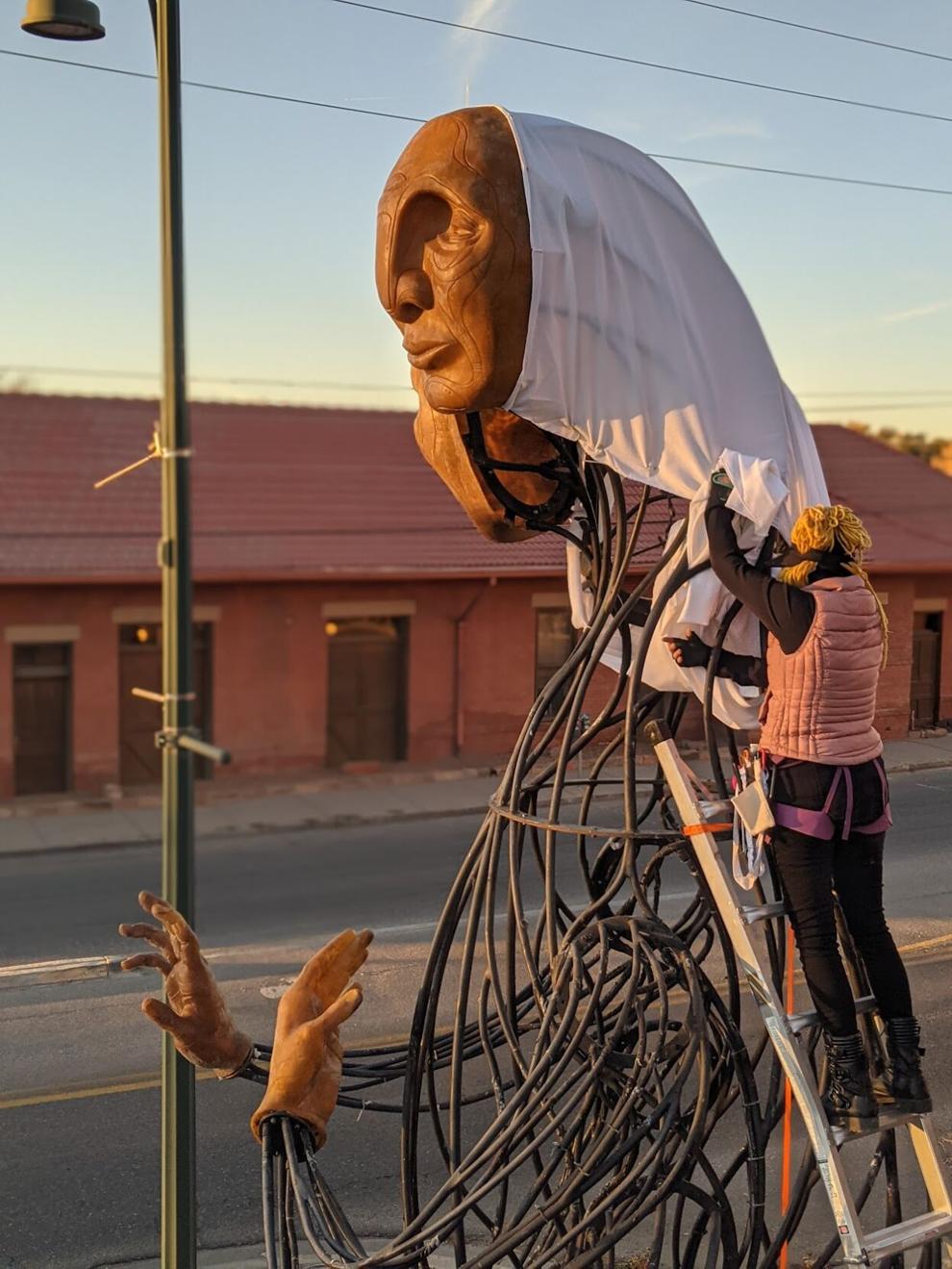 Anastazia Louise Aranaga with The Solacii at Form & Concept, 2022; photoAustin Armstrong
Viewers can get a glimpse of its second incarnation during the Last Friday Art Walk, which takes place from 5 to 7 pm in the Railyard District on March 25. The gallery invites visitors to witness the restoration in progress and hosts the artists for a weeklong open house, inviting guests to engage with them, before the official unveiling at a celebratory event planned for 5 pm on April 1.
Nothing inherently controversial is present in its meaning or its design, which inspires speculation as to why it was targeted late one night on Aug. 21 after being installed outside the gallery that summer. The arsonist, who remains at large, left behind a red gas can at its base.
The incident sparked a public outcry. Mashaal-Lively, a mixed race, genderqueer artist raised in Philadelphia, was left with many questions. The piece was installed at the end of their exhibition Entangled Futurities: metaspores for queer trans/genic symbionts, a joint show that Mashaal-Lively created with artist Pascal Emmer.
The arson was the second act of destruction perpetrated against one of Mashaal-Lively's public artworks since they relocated to Santa Fe in 2019.
"There was probably about a year in between," Mashaal-Lively says of the first and second incidents. The first was a community piece, an altar that addressed social justice issues, that was damaged by vandals. It was a group project, installed in the Railyard and spearheaded by Mashaal-Lively.
pull rate
People project all kinds of things onto art. As much as we believe that this project is a really beautiful, healing work, everybody brings their own stuff to it. … But even from the fire, there was so much more talk about what it meant and why it was so devastating. Hopefully it brings more people into the fold." — Tigre Mashaal-Lively, artist
"The vandalism of that was within some months of everything that went down with the obelisk," Mashaal-Lively says, referencing the controversy around the public marker that formerly occupied the center of the Downtown Plaza. "My first assumption was that there might have been some backlash from the intercultural tensions. But it's hard to say if it's all connected."
For their part, Mashaal-Lively is in the process of recasting and repairing the ceramic elements, such as the massive faces and hands. But one face, which currently gazes at the gallery's ceiling from a table in the temporary studio, still has blackened soot around its edges. The artist is deciding whether or not to clean it up, recast it, or leave the burn marks.
"Part of me likes the idea of ​​having some part of it visible instead of trying to pretend that nothing ever happened," Mashaal-Lively says. "But we have to do some tests for durability and make sure it will hold up. I was talking to Jerry [Wellman], who's one half of Axle Contemporary, about the difference between curing and healing. Curing is this attempt to remove the history of a wound or a disease or trauma, and healing is the process of actively being with it, working towards health, and not trying to erase the history."
The arson took place on a Saturday night; Mashaal-Lively got the call the following morning. They arrived at the gallery and immediately burst into tears and collapsed. It wasn't just that the sculpture represented nine months of work, but nine months of intention building, nurturing what they regard as an extension of themselves and their genderqueer communities, to offer the world something of positive value.
Aranaga wouldn't arrive for another month.
"As I was driving up the street — and I came alone, which was a bad idea — I saw it, and I just lost it," Aranaga says. "I cried for a week before I could come back. I didn't realize it would affect me that much."
"The tricky part of this is, when something like this happens, you don't really know what the motive is," says Form & Concept's director, Jordan Eddy. "There was an entire community involved in making it. If you ask how many hours were involved, it's hard to measure that. So many people donated garments for the original cloak. So the grief was immeasurable."
Is there a greater conversation that needs to happen regarding the incident and its aftermath? That's an open question. Only the perpetrator knows why he did what he did. Maybe the message of the piece just didn't have time to work its way into the local consciousness. Maybe knowing what it represents might stay the hand of those who seek to harm it.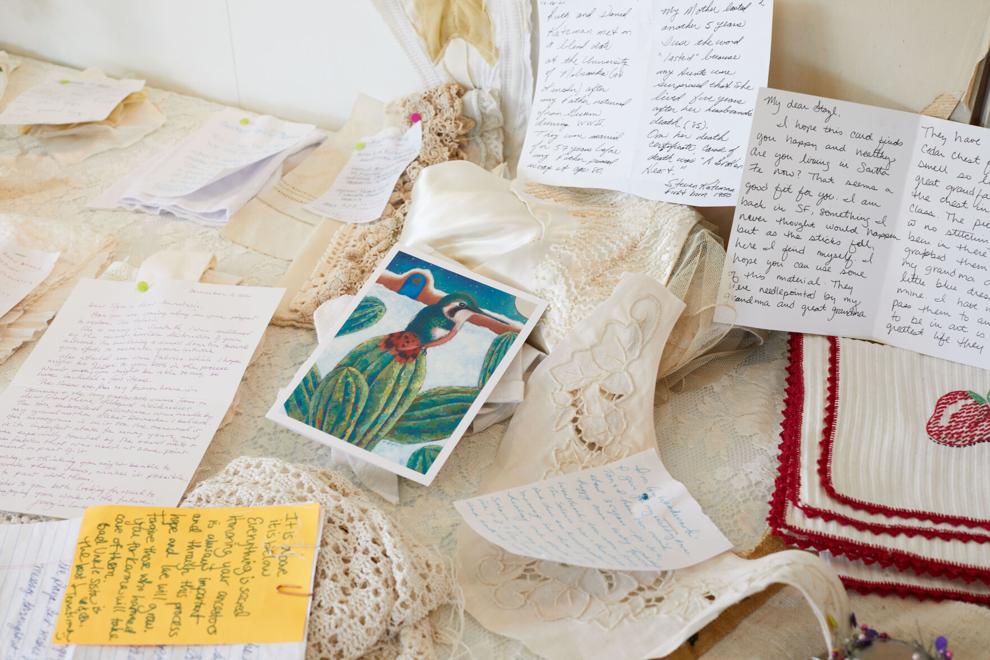 Donated fabrics and stories from The Solacii Restoration Project supporters, 2022
"People project all kinds of things onto art," Mashaal-Lively says. "As much as we believe that this project is a really beautiful, healing work, everybody brings their own stuff to it. Someone sees it as beautiful, and someone else sees it as creepy, strange, or demonic. You can't ultimately help that. But even from the fire, there was so much more talk about what it meant and why it was so devastating. Hopefully it brings more people into the fold."
Developing a new version of The Solacii in a public gallery setting was important for the artists because it provided opportunities not just to get the word out but to engage visitors and passersby in conversation around it.
All of the donations pouring into come with stories, many of which were handwritten, that Aranaga is compiling into a book, a single artifact, to accompany the sculpture.
"If someone were to purchase it, they would get the book, which tells the story of its ancestral footsteps," Aranaga says.
Donated items include baby onesies, a lace garment from the 1800s, and even clothing donated by a toddler who cried when she heard The Solacii had burned and whose parents are frequent visitors to the gallery. Aranaga says the little girl keeps asking, "When is the lady going to get her dress?"
The last time Aranaga made the cloak, she did it sight unseen.
"I was living in Grass Valley and Tigre was living in Oakland. I didn't know what the structure looked like. I only knew that we needed 400 square feet for the cloak. It was a little more amorphous. With the time that I've had to remake it, I'm going on the feeling of a mosaic or stained glass. That's why it's so intricate."
She gestures to load the worktables with donated fabrics, many of which came from locals after the call went out and a fundraiser was started to rebuild the sculpture.
"All of these individual pieces will follow the line of The Solacii," Aranaga says. "It will be shapes with cutouts in between, so that you can see all around it, so people aren't doing nefarious, sneaky things behind it, like carrying gas cans."
Aranaga is arranging the donated fabrics over a sheath of flame-retardant material. After it's installed, a flame retardant spray will then be applied to the entire work. The gallery, for its part, is installing new cameras with better night visibility, better outdoor lighting, and has engaged the services of a security company to make regular drive-bys.
"The conversation we were hoping to spark was around shelter and solace," Eddy says. "When it happened, we knew right away that we had to bring it back and do it in a way that was safe."
The left hand of the new version of the sculpture is positioned over its heart, representing safety and care for the self, and the right hand is reaching out in an offer of safety to others.
"Part of the intention with the three heads is to represent the three-fold nature of time," Mashaal-Lively says. "Another part of it is this sense of looking down into despair and looking up into hope. Part of it comes out of that creative tradition of not forgetting or pushing away our ancestry, our lineage, or our current moment. We exist because our ancestors had enough hope to keep going. That's a major inspiration for this."