The New Mexico State men's basketball program is continuing the trend of hometown heroes on the roster with the newest edition, former Las Cruces High Bulldawg Deuce Benjamin. Now, if you have been a tried and true Aggie fan throughout the years you should recognize the name Benjamin, as NM State Hall of Famer William Benjamin Sr. went with the Aggies to the sweet sixteen back in 1992 and is Deuce's father.
Benjamin Sr. attended three NCAA Tourneys (1990, 1991, and 1992) as well as one NIT (1989). With the most recent Las Cruces product Johnny McCants graduated from the program, Benjamin is ready to take the baton of representing this beloved city.
Transitioning from dominating in high school ball to the collegiate level can often be a bit of a shake-up for first-year athletes. However, in a household that lives and breathes success in basketball, the opportunity to play at the Division One level is a welcomed challenge.
"What changed was the pace is different you know, paces a lot faster and you know, you play against older guys and people that are that was just as good as you in high school, if not better. So getting to play against the better competition is something I love so you know, I'm glad I got to this level. Benjamin continued, "Yeah, my game improved a lot. I learned so much from my teammates and I got a lot better doing the drills coach Heiar put me through. I just got a lot better throughout the months. And you know, I can't wait for the season to keep going."
As a Las Cruces High Bulldawg, Deuce averaged 25.3 points, 6.9 assists, and 5.7 rebounds per game, helping keep a near perfect record of 31-1 during his senior year. With such a community behind him already, it is something truly special for young talents like this to be able to begin their college career surrounded by love and support.
Photo Courtesy of NMSU Athletics
Speaking on his first minutes played in the Pan Am against Western this last Wednesday and some goals for this season, "It was a real great experience. It was exciting for me personally, especially being from Cruces. You know, for being my first time out there being on the Pan Am floor you know, it felt great. Whole family was there, had a lot of family friends there at the game to watch me and support me." he said.
Benjamin explained more about his goals this season. "Make it to March Madness. That's my goal, you know, get a chance to play in front of the whole crowd and just on that big stage."
Origin stories like this are really the core of sports and why we all find small town players who make it so inspiring. Deuce, like many of us, has some players he looks up to of his own, and for good reason. Playing the role of coach and father, Benjamin Sr. has left some big shoes to fill as he made quite a name for himself in his time wearing the crimson and white uniform.
"I am looking forward to leaving my mark kind of the same way that he did when he played here, so you know hopefully my name could be up in the Hall of Fame right next to him," Benjamin said.
He spoke on some of his NBA inspiration, "I got a lot. One of them is Damian Lillard I look up to a lot just because he's from a small school, you know, nobody really noticed him in college basketball. So Damian Lillard is one of the guys that I look up to personally."
Perhaps Deuces' name is on younger players lists, which really is the beauty of athletics and the domino effect of impacts each player makes on future superstars.
Benjamin isn't the only player from Las Cruces High to make it to the show however, as his teammate Isaiah Carr signed with NMSU's infamous rivals, The Grand Canyon University Lopes. Carr is a 6-foot-11 center who averaged 14.4 points, 9.7 rebounds and 2.9 blocked shots for Las Cruces last season.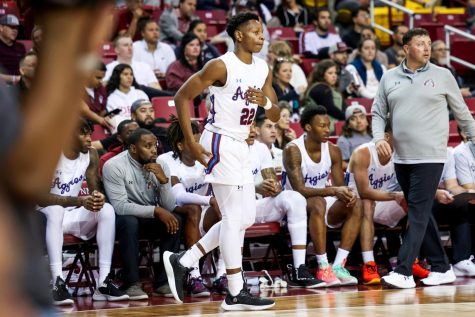 Photo Courtesy of NMSU Athletics
When asked about the fellow Bulldawg and his thoughts on the reunion when the teams are scheduled to face off Feburary 9, 2022, Benjamin expressed he is looking forward to it.
"I'm really excited for that. Yeah, I grew up with Carr since you know, the second grade so being able to play against him finally, it's gonna be real exciting. You know, cause, you know, me and him had we had a lot of good experiences in high school. We did a lot of things together, you know, playing against him for the first time it's gonna be exciting," Benjamin said.
The Aggies are scheduled to kick off regular season play this coming Monday Nov. 7, 2022 at 7 pm Anticipate a roar throughout the Pan Am if you are able to attend in person, after all, it's the beginning of a new era in NM State basketball.