Curt Walters, a prolific Sedona painter of the Grand Canyon, says he paints the air that surrounds his subjects, revealing a deeper understanding of the moment and emotions that are timestamped in his works.
"In 1986 and 1987 my pictures took on a very soft and gray quality. I think I was hiding in the paint, "said Walters. "But these images were a deep, emotional response to the sadness I was feeling. You could only feel the soul of these pictures if you stood in front of them long enough. "
Recently, Walters decided to speak authentically about his life – and talk about everything. In 2019 he and his daughter Miranda shot the film "Painting the Air: The Life and Art of Curt Walters".
The film was screened at the Sedona International Film Festival this year and last week, in a private screening to a distinguished group of people associated with one of the highest echelons in the art world – the Prix de West.
It was a nerve-wracking decision, said Walters.
Few can understand the pain and suffering of an artist's emotional wellbeing, especially when he paints something as beautiful as the Grand Canyon. As deep as the crevices of the seventh wonder of the world are, they can serve as a metaphor for the filled-in deep emotions. Sometimes Walters said he felt he was standing on the edge of an abyss, which correlated with his struggles in his life – but from this cliff he paints the most beautiful pictures that have resonated in his heart for the past 52 years.
"A Chasm Sublime – Plateau Point" is a Grand Canyon painting by Sedona painter Curt Walters. Courtesy photo
Struggles in childhood
When he said he was "hiding in the paint," Walters was referring to demons he carefully hid during his childhood and most of his life.
As a child, he learned he was dyslexic, knew he was gay, and struggled with alcoholism later in life. Meanwhile, he tried to hide his emotions and began to experience severe depression.
"I have very few fond memories of my childhood in Farmington, New Mexico," he said. "I was punished, belittled, and humiliated because I didn't have a brain like everyone else. I never understood what I did to my classmates to get bullied and treated like this.
"My form of dyslexia affected my coordination so that I had no athletic skills. All the rude remarks and evil attitudes made me develop feelings of self-hatred. I always felt unwanted, unattractive, and overweight.
"My father was embarrassed by his very effeminate son and moved his family to a farm," he said in 1958 in LaPlata, NM. "Although misguided, but with good intentions, my father wanted to make a man out of me."
While Walters' father thought life on the farm would turn his son into a man, Walters turned to painting instead for comfort.
"My father wasn't a loving man and it seemed like he was always angry," he said. "I knew I never made him proud. But in my youth I was able to find a connection to him through his love for the southwest – these few happy moments meant a lot to me – this was the only way I could really connect with him.
"My last conversation with my father before he died wasn't about his own cancer, it wasn't about our family, it was about my works of art from the Southwest – that was the closest thing I would ever get to his approval." . "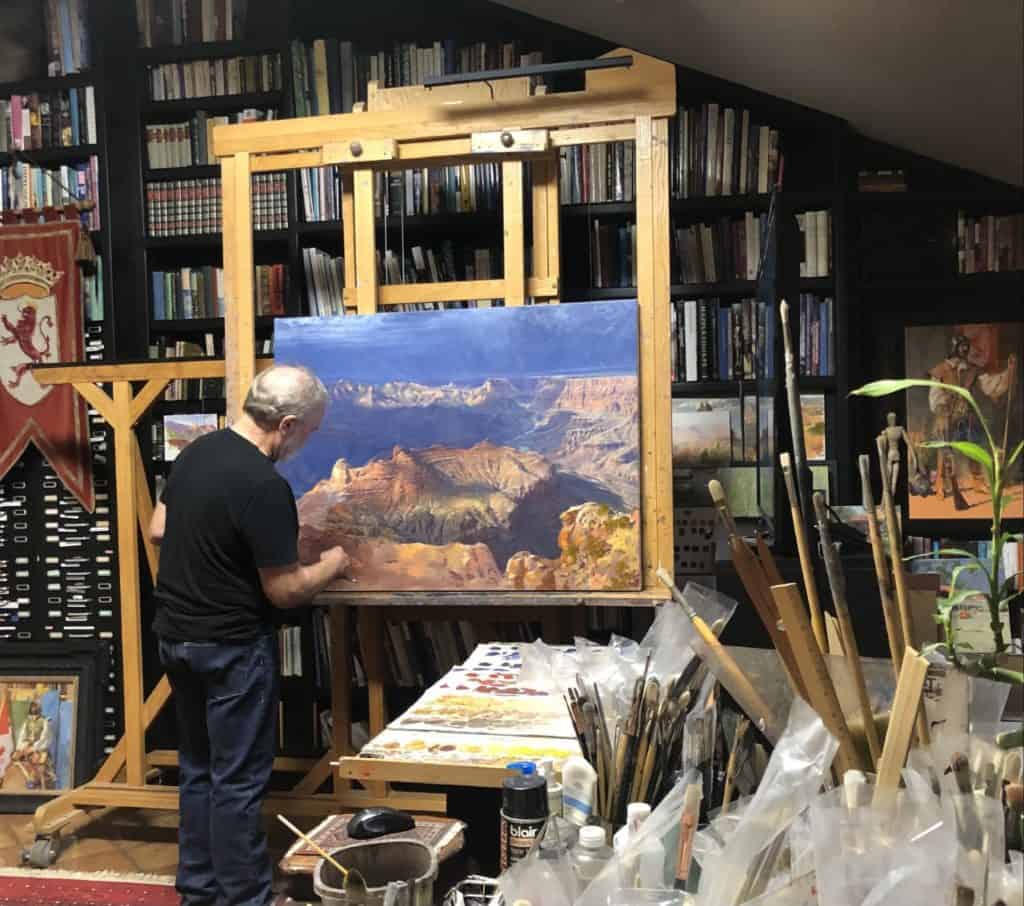 Curt Walters works in his home studio. Carol Kahn / Larson Newspapers
Difficult choices
Walters said that he felt compelled to hide his natural instincts while growing up in a very conservative Mormon community. In college he tried to stick to the rules he believed society required of him. Shortly after the birth of his daughter Miranda in 1975, he moved his family to Taos, NM, and felt it was one of his better choices.
"In Taos, I met artists and men like me," said Walters. "In the Tao culture, no one treated me like I was stupid and no one looked at me like I was broken. It was the first time that I was accepted. I was very lucky to be close to so many of the great artists who lived there at the time. "
In 1978, Walters' youngest daughter, Veronica, was born.
"I really enjoyed being a father. I loved my girls very much, "he said. "I was hoping the kids would make our home happy, but I still found myself unhappy being married. I wanted to be close to the Grand Canyon
and near the galleries in Scottsdale and Sedona. I mistakenly believed that I could salvage a failed relationship by moving to Sedona. "
His father's death in 1980 and the divorce a few years later triggered a range of emotions that he really did not understand.
"In 1983 I was depressed and started drinking way too much," he said. "In my art I have explored a very controlled and pointillist technique. These paintings were compositions that certainly reflected the uptight emotions I was feeling at the time. It was time to face the saddest and most difficult decisions of my life. "
In 1983, Walters met Tom Dailey, a Sedona businessman who brought his happiness back. You have been a partner for 38 years.
"I was very lucky to have met Tom. He's got a great sense of humor wrapped in southern charm, "said Walters. He was my hero then and is still my hero today. "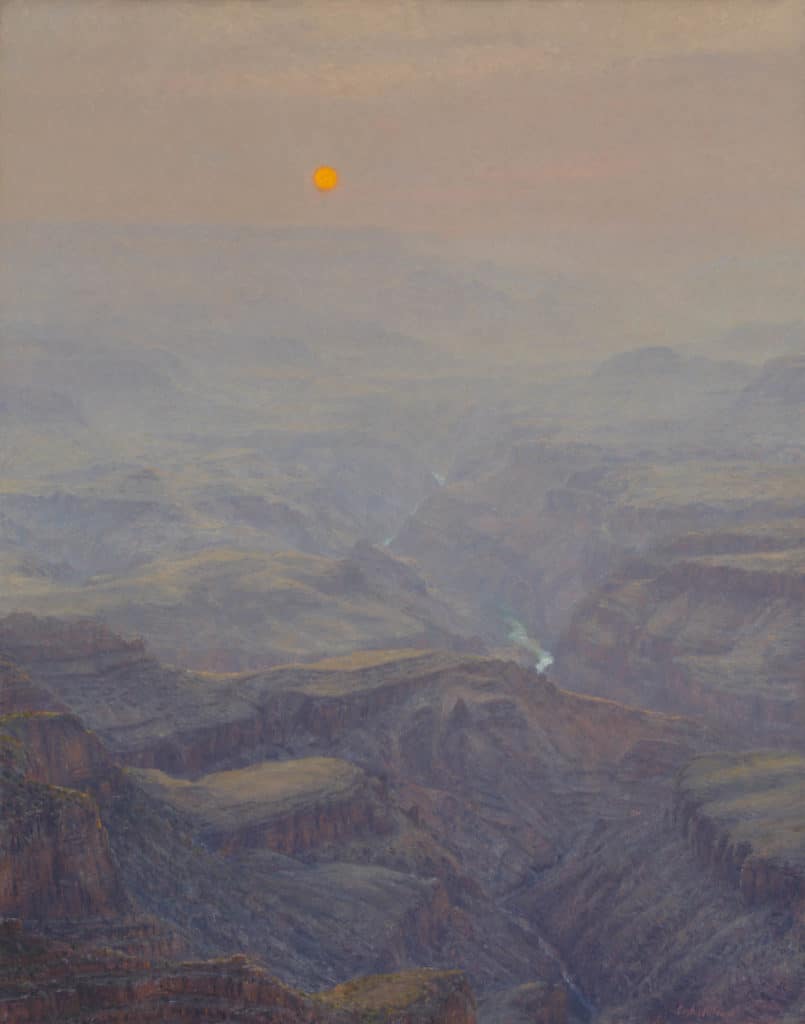 "Antagonizingly Beautiful" is a Grand Canyon painting by Sedona painter Curt Walters. Courtesy photo
Mentor Wilson Hurley
Walters felt the need to explore the academic side of painting and said that he had reached out to one of the greatest living landscape painters of the time, Wilson Hurley, and asked to have his paintings criticized by his mentor.
"Hurley waved a hand in front of the slope [in Walters' painting] and said, 'Damn it Curt, this slope is round', "said Walters. "I got it right away. I understood the shape. This was the greatest gift of knowledge that I have ever been given. "
Walters praises Hurley, who was a great influence on his painting.
"I don't think I would have the success that I have without him, and that's the truth," he said. "He piqued me a lot. He was a great teacher; However, when I became a competitor, he wasn't very friendly. "
In 2007, after winning the Buyers Choice Award for "Ra's Domain" at the Prix de West, Hurley warned Walters that he would never win the Prix de West Purchase Award for being gay.
"It was a very sweet irony that Wilson was there to watch me claim that award for my painting 'Springs Caprice'," said Walters. "This evening was something very special because I had also won the Buyers Choice
forgive. Wilson came over to give me a hug, a little way out of his comfort zone. My mentor, my competitor, my antagonist, my friend died the following spring. "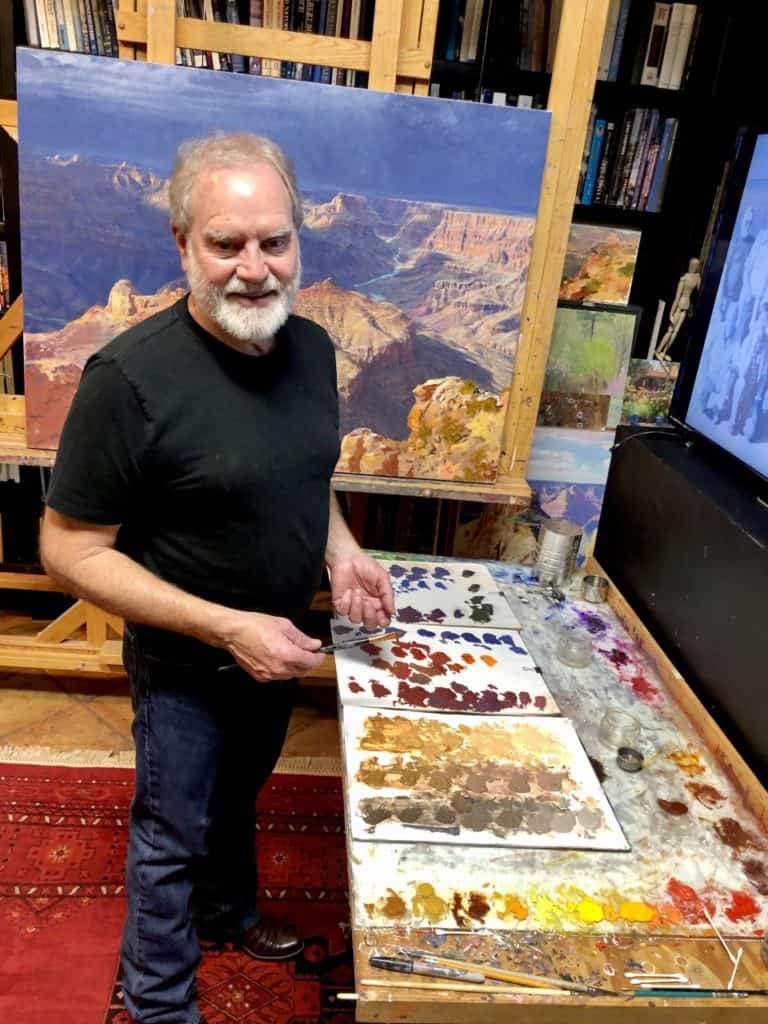 Curt Walters paints in his studio in Sedona in August. Carol Kahn / Larson Newspapers
West Visits Sedona Award
The Prix de West Invitational Art Exhibition and Sale is in line with the National Cowboy & Western Heritage Museum's exhibition of outstanding contemporary Western art. It is one of the most coveted awards for any artist.
A group of 40 members of the Prix de West were in northern Arizona last week, touring Walters' studio in Sedona and watching him paint in the Grand Canyon. It was part of their annual art tour of the Southwest, which started in Tucson, stopped in Phoenix, and culminated in Sedona.
Many traveled from Oklahoma City, home of the National Cowboy and Western Heritage Museum and the Prix de West. Most were collectors of Walters' paintings.
As part of the tour, the members saw Walters' film at the Mary D. Fisher Theater. Audiences expected to see the beautiful work of a man they all wanted to admire and were quite surprised by some of the revelations made by this great artist.
"Our whole group goes on a yearly trip to see artists exhibiting at the Prix de West, and Arizona is a great place to visit artists," said Larry Nichols, director of the National Cowboy and Western Heritage Museum and a former Chairman of the Board of the Prix de West. "I didn't know how difficult his early life was or what challenges he was facing.
"When you think of Curt Walters, you immediately think of his artwork and not the difficult, challenging journey he had in his early life – and most of all, the fact that he is the great artist he is today."
Walters asked questions from the crowd about places he would paint, dangers of painting at the Grand Canyon, how long it took to paint one of his works, and another wondered if he intended to retire.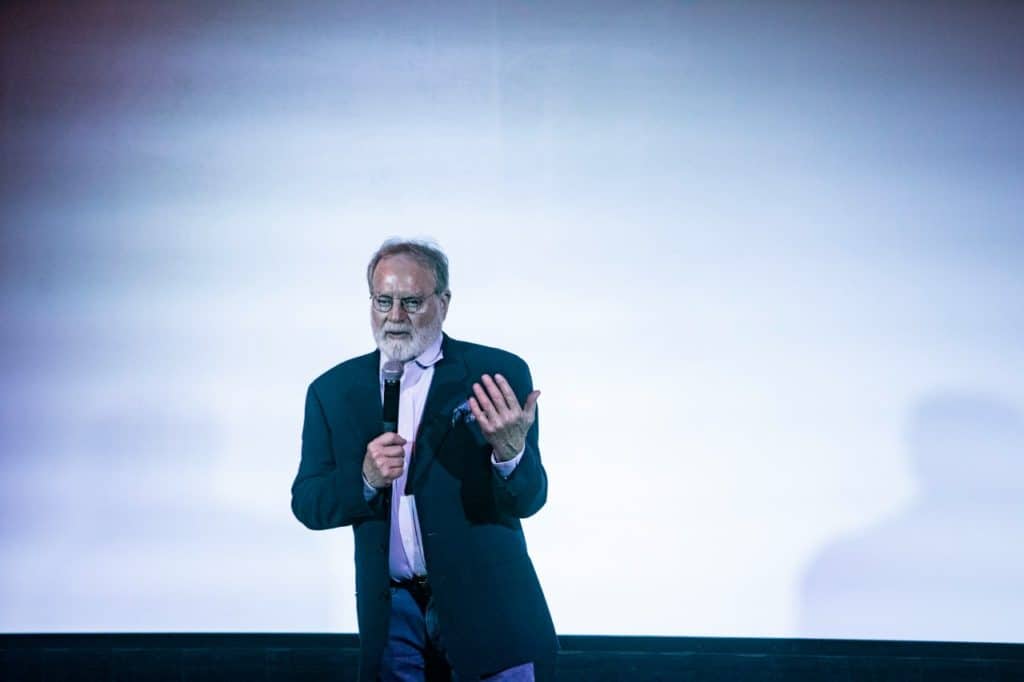 Sedona painter Curt Walters speaks to the audience about his life and work during a film screening at the Mary D. Fisher Theater. David Jolkovski / Larson Newspapers
"No, I'm not going to retire," said Walters. "My production has been reduced to a few pictures a year. It just doesn't come out of me as quickly as I used to paint it. In the 90s I took 100 pictures in a year and last year I took five. I'm still running – I'm like an old car. "
Walters made history at the annual Prix de West. He won the Jackie L. Coles Buyers 'Choice Award at the 2019 Prix de West and had previously won the Buyers' Choice Award seven times. He also won the Frederic Remington Award in 2004, 2005, and 2013. Walters won a one-two for the Buyers Choice Award and the Prix de West Purchase Award in 2007 – the only time in the show's history that the artist has two awards won for different paintings in the same exhibition.
"I won 13 prizes at the Prix de West – I'm just incredibly lucky," said Walters.
The Prix de West will celebrate its 50th anniversary in 2022. Walters said he'll be submitting a painting but isn't sure yet what it will be. In the meantime, the Prix de West has asked to show its film during its event on June 17th and 18th, 2022 and to keep it on display at the National Cowboy and Western Heritage Museum.
For Walters, who is 71 years old, he can now breathe a sigh of relief. He finally lets go of the emotional bonds that have held him captive all these years and expresses his freedom through his life's work.
"I know that every brushstroke and canvas that I paint is the direct result of the truth that I capture in my work. These are my own unique personal experiences – my pictures are the narration of my time. "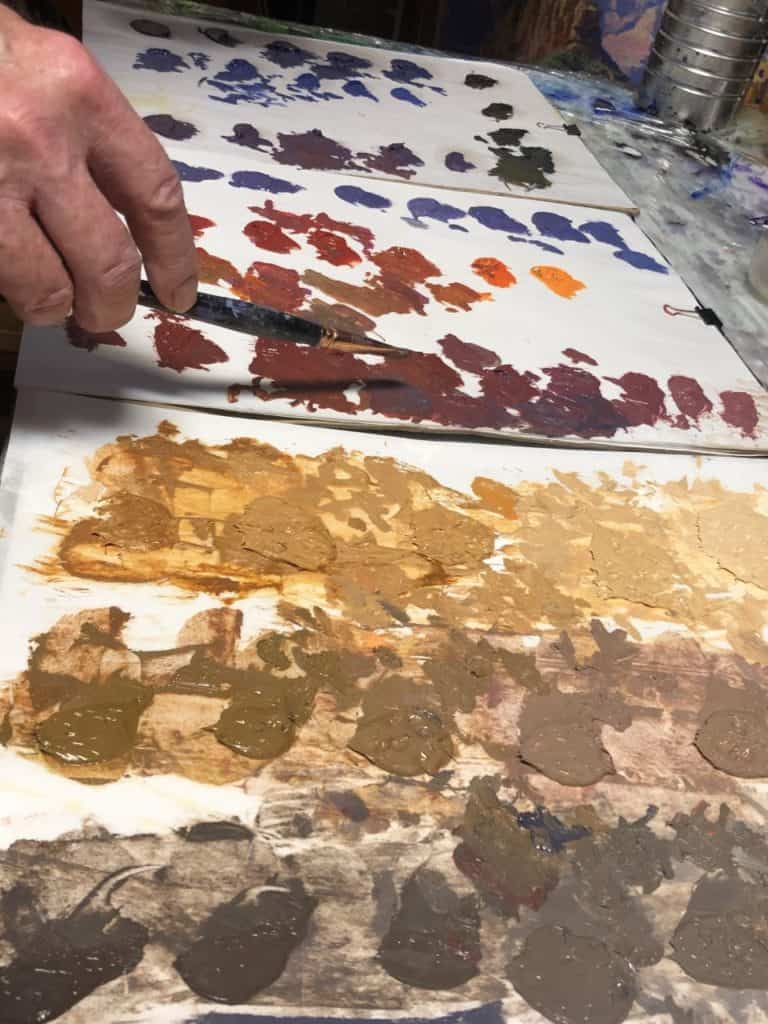 Photo by Carol Kahn / Larson Newspapers